Hand and Finger Prosthetics, Amputation Procedures, and the Path Back to Recovery
From surgery to rehabilitation, to occupational and physical therapy, exercise and beyond, our goal is helping you achieve your maximum level of independence.
Decades of intensive experience and access to the latest in prosthetic technology have taught us that successful upper limb surgery and recovery relies on 4 key ingredients: preparation, motivation, expertise, and technology.
Our team of industry-leading specialists has built a national reputation for the MCOP name by providing the highest level of prosthetic care to amputees of all ages, backgrounds, and activity levels.
From upper limb amputations to hemipelvectomies to many other specialized amputation types, our goal is to help our clients achieve the maximum level of independence and mobility. Naturally, the same is true for amputees recovering from all types and severities of hand and/or finger amputations – a specialty area which we'll be spotlighting here.
Within this guide are general recommendations and information for those facing a hand, partial hand, or finger amputation, as well as information on how MCOP supports amputees and their families throughout the entire adaptation and recovery process. For answers to questions about your unique situation, please reach out to us.
Schedule a Chat
Did you know?
More than 90% of all annual upper-limb amputations in the United States occur at a level that is distal to the wrist, or below the wrist. The vast majority of these types of amputations occur at a partial hand level or a partial finger level.

Our experts have achieved over an 80% acceptance rate with upper limb prosthetics
In the U.S. the ratio of upper limb to lower limb amputation is 1:4.
As determined by the AMA Guidelines to the Evaluation of the Upper Extremities, partial finger, full finger and/or multiple finger amputations can have a significant impact on one's functional capabilities and overall functional deficit.
Fortunately, over the past decade or so, there have been many advancements specifically designed for individuals who have experienced partial finger or partial hand amputations. Many of the latest partial hand prosthetic designs can provide functional solutions which have a positive impact towards restoring balance, symmetry, and hand function.
Please note that while the information provided here is provided from years of experience and trusted sources, almost every case is different. As such, the material provided here is only intended for informational purposes and should not be considered medical advice. Since every person's presentation or case is different, we recommend an in-person consultation to discuss what options might be best suited to meet your needs.
Always Remember: You Have the Power of Choice
Your choice of prosthetist can have an outsized impact on your journey after an amputation. There are many services available, however, some do a much better job of empowering you and caring for you in the long term than others. The folks that choose MCOP become members of a larger community committed to their ongoing health, happiness, and wellbeing. Choose a prosthetic company that's invested in your outcomes. Choose to Move Forward with MCOP knowing that you'll receive:
The peace of mind of knowing you're working with prosthetists with the most experience in the country with complex and unique limb loss
The expert guidance with leading knowledge of the latest prosthetic technologies and activity-specific devices
The empowerment of an in-house gym and shared services with amputee specific physical therapy services
The comfort of working with people who care
An Overview of Prominent Hand and Finger Amputation Types
"Amputation level" is a term used to describe the place where a body part is amputated, which is generally determined by your doctor before the actual amputation procedure.
The amputation level factors into what kind of prosthesis will eventually be the most suitable for the individual amputee.
Partial Finger / Partial Thumb Amputations
When an amputation occurs anywhere in the finger(s) or around the thumb area of the hand, it is commonly referred to as a "partial finger amputation" or a "partial thumb amputation." These terms can encompass virtually any finger amputation or combination of finger amputations.
The thumb is the most critical of all the fingers and requires the most attention for someone to achieve a normal grasp on objects. Meanwhile, partial finger or partial thumb amputations could include:
Metacarpal / Transmetacarpal Amputations
A type of transverse amputation, the term "metacarpal/transmetacarpal amputation" refers to removal of part of the hand, but not the wrist joint itself. A metacarpal amputation could leave the patient with portions of their hand and fingers still intact and a prosthetic device may or may not be needed to achieve certain functional goals.
For example, myoelectric prostheses, which are electric externally-powered devices controlled through electric signals generated by the wearer's muscles, mimic natural human anatomy and motion. As a result, they provide amazing capabilities when used for metacarpal or transmetacarpal amputations.
Of course, you should always discuss what prosthetic options would be best suited for your specific needs before deciding on what type is most appropriate. Still, it's always heartening to know there are many options out there, and this is all thanks to the astounding advancements made in the technological area of prosthetic development over the past decade or so.
From Preparation to Recovery: What to Expect From the Typical Amputation Process
Whether you or a loved one is preparing for a hand or finger amputation, you should be prepared for what's ahead. Below, you'll learn what the typical start-to-finish amputation process consists of, and also find some of our staff's recommended questions to ask to help make the upcoming operation go as smoothly as possible.
Pre-amputation social support
You or your loved one are not the first person to require a hand or partial hand amputation. As such, consider asking your doctor for support group(s) recommendations or even possible access to patients who have had a similar amputation (but, understand that HIPAA regulations might limit your access). There are several different support groups and resources available to the amputee community. Understanding your options ahead of time can prove beneficial to your physical, emotional, and social well-being pre- and post-amputation.
The Pre-Amputation Consultation Phase
During the pre-amputation consultation phase, you'll meet with a trained staff of amputation specialists and/or prosthetic experts. You'll discuss everything from your lifestyle to your work demands to your specific recovery goals. All of this lifestyle-oriented information will help the prosthetic staff determine the best approach for you, and also help determine which device will ultimately be most appropriate.
Here are some questions you should be prepared to discuss with your doctors, prosthetists, and other specialists:
Risks: What are the major risks to consider with this surgery? What precautions are taken to minimize those risks? Considering the risks, is amputation the best solution?
Procedure: How long will the surgery take? What kind(s) of anesthesia will be used? What measures are taken to reduce reactions to the anesthesia?
Pain: What kind of pain should be expected after the surgery? What are the short- and long-term pain management plans?
Recovery: After the procedure, how long will the patient need to remain in bed? How long in the recovery room? Will there be drains, and if so, when will they be removed? How long will you supervise the patient's care after surgery? When will the stitches be removed?
Also, don't be afraid to ask specialists for support group recommendations, or even access to patients who have undergone a similar amputation (while keeping in mind that HIPPA regulations might limit your access). To get you started, here are some of our favorite support groups and other resources available to the amputee community.
Post-Amputation Assessment
After the procedure is finished, your prosthetist will schedule a clinical assessment. During the assessment, your residual limb and current prosthetic needs will be evaluated and reassessed, and you'll also have the opportunity to further discuss the prosthetic insurance options available to you.
Obtaining Your Insurance Coverage
MCOP always helps our clients navigate the sometimes tricky pathways to obtaining the proper coverage for new devices.
Before providing any prosthetic devices or services, we first run an exhaustive insurance assessment to determine the coverage implications for you. Every policy is different, but we comb through yours to get an idea of what types of prosthetic device will be covered. We then openly discuss any and all potential costs with you to ensure expectations are aligned and to eliminate any future surprises in billing.
Fortunately, the majority of artificial hand and finger solutions we offer are covered by private insurance, government insurance, Medicare/Medicaid, and a host of other insurance types. In addition, most insurance companies offer multiple options for covering the expenses of upper-extremity prosthetics.
Prosthetic Selection & Fitting
At MCOP, we can begin the prosthetic finger or artificial hand selection and fitting services as quickly as two weeks after a customer's surgery (though this is subject to vary based on the predicted length of the recovery process). Regardless, we always recommend that our customers begin using their new hand and finger prosthetics within 30 days of their operation, as this allows them to more quickly adapt to the device.
Fitting Your Prosthetic Fingers or Hand
Once your insurance-related pre-authorization has been obtained, we'll begin ordering your prosthetic components and then have you in for an impression. For some hand impressions, we use silicone. For others, we use plaster. These physical plaster molds allow us to create the best-fitting and most comfortable prosthetic socket for you. Then, after the diagnostic set-up is just right, we'll fabricate a laminated carbon fiber prosthesis and fine-tune its functionality to your specific needs.
Post-fitting Support & Maintenance-Related Follow-ups
In addition to performing initial prosthetic training and working closely with your occupational therapist, we'll schedule a follow-up consultation 1-2 weeks later to help you with your long-term rehabilitation. Not only will this help you adapt to your new prosthetic and slowly but surely regain mobility and comfort, it will also help ensure you properly adapt to muscle or limb volume changes that occur after wearing a prosthetic for an extended period of time.
Also, hand and finger prosthetics generally require maintenance from time to time, so we'll continue to meet with you every 3-6 months after your first follow-up.
Artificial Fingers, Hands, and Other Advanced Prosthetic Solutions
Experienced prosthetists are usually consulted to establish what amputation level is most favorable for an amputee's future prosthetic device.
Depending on the amputation level of the hand and/or finger, prosthesis options and your ability to use certain prosthetic technologies can vary greatly.
Again, you'll have to consult with an experienced prosthetist to help establish your precise amputation level, needs, and what device will be the most appropriate for your recovery process.
Passive Prosthetics
Passive silicone prosthetic devices are designed to emulate the natural look and texture of a non-prosthetic hand or finger. Often covered in different qualities of high- or low-definition silicone that can be custom painted, passive prosthetics are extremely lightweight. However, they don't provide any actual active movement and offer limited grasping abilities, but they do sometimes improve the wearer's functionality by providing a stabilized surface. For all of these reasons, passive prosthetics are generally selected for more aesthetic or cosmetic purposes rather than high-performance functional ones.
In addition to passive silicone prostheses, there are now passive multi-positional designs available. These are created using some of the latest 3D-printed steel and titanium finger technologies. Currently, multi-positional prosthetic designs are available from industry-leading component manufacturers like Point Design, Naked Prosthetics, and Partial Hand Solutions.
Passive Prosthetics from Point Design
The Point Digit offers a durable, full-length prosthetic finger solution ideal for people who are missing an entire finger (or even multiple fingers) at or proximal to the metacarpophalangeal joint level. This prosthetic finger's design is multi-positional by the wearer, allowing for easy adjustments to achieve functional grasps of objects of all shapes and sizes. In addition, this powerful prosthetic has a tested load rating of 150 lbs.
Similarly, the Point Digit Mini offers another full-length prosthetic finger solution, only this variation is made specifically for wearers who have smaller hands. As a result, the Point Digit Mini is an especially popular choice for families in search of a high-functioning, high-performance pediatric prosthetic.
There's also the Point Partial, which offers a shorter prosthetic finger solution in three separate sizes for varying levels of partial finger and/or partial hand amputations.
Passive Prosthetics from Naked Prosthetics
The GripLock Finger is an elegant passive prosthetic solution for amputations proximal to the MCP joint. One of its primary benefits is its ability to let users quickly and easily reposition it using their other hand, then easily return to full extension by releasing the dorsal paddle or moving to the full flexion release point.
Passive Prosthetics from Partial Hand Solutions
The Titan Thumb offers a unique, heavy-duty, full-length single-axis jointed prosthetic finger which is ideal for someone missing their entire thumb at the trans-metacarpal or carpometacarpal level. Made from high-performance titanium components, this prosthetic finger design is multi-positional, allowing for easy adjustments that can optimize pre-positioning. In addition, its intuitive ratchet design allows for full-base rotation and extra secure grasping capabilities."
The Titan Partial, Titan Full, and Titan Flex fingers are all a part of Partial Hand Solutions' Titan line. As their names imply, each of these devices is made of heavy-duty, long-lasting titanium. Meanwhile, customers can choose between three options to fit their specific needs.
For amputees missing their entire thumb at the trans-metacarpal or carpometacarpal amputation level, the M-Thumb is a popular choice. This device boasts a full-length, single-axis jointed design, making it multi-positional and easy to rotate or gain additional flexion and extension movements. Wearers can also adjust the level of resistance, allowing them to achieve a perfect stable grasp that's both functional and comfortable.
Body-Powered Prosthetics
Body-powered prostheses are mechanical, body-activated devices. At the partial hand and partial finger amputation levels, body-powered devices can be composed of a single prosthetic finger, multiple prosthetic fingers, or an entire or partial hand.
Whether it's a partial hand, complete hand, partial finger, or multi-finger device, a body-powered prosthesis can be easily operated by remnant finger movements or by a combination of finger, hand, and wrist movements. These movements are all captured through advanced yet intuitive harnessing technology and then transmitted to the prosthesis via a convenient, highly responsive control cable or harness.
With these body-powered prosthetics, wearers' body movements are effortlessly captured and emulated by the device's harness or cable system. This allows the wearer to actively operate the mechanical finger or fingers with quick response times and extreme dexterity. It also gives the wearer a strong sense of force feedback and realistic-feeling pressure while grabbing or interacting with an object.
Below, you'll find a selection of some of the most popular body-powered hand and finger prosthetics offered at our various prosthetic facilities throughout the United States and Malta.
Naked Prosthetics Body-Powered Devices
The PIPDriver prosthesis offers a unique partial-length prosthetic finger design that's perfect for someone who has had an amputation of the tip or distal phalanx portion of the finger. The custom-fitted cage-like structure is designed to harness the movement of the more proximal PIP finger joint to activate the distal prosthetic mechanism and restore full finger length and provide the wearer with active finger flexion and extension movement.
Offering a robust solution for people with amputations through the proximal phalanx of any finger, the MCPDriver excels at restoring the middle and distal phalanges. Among other benefits, this body-driven articulating device allows wearers to slowly but surely regain natural grip patterns by restoring pinch, power grasps, and overall grip stability.
The ThumbDriver features a unique anchor design that track's the wearer's natural CMC motion while also providing a rugged structure that can react to heavy forces and high amounts of pressure over time. The tip of the ThumbDriver also has an adjustable preflex and boasts some of the most subtle articulation capabilities of any prosthetic finger.
Partial Hand Solutions Body-Powered Devices
The M-Finger prosthesis is a full-length, dual single-axis jointed finger that's perfect for someone missing an entire finger at the trans-metacarpal amputation level. The M-Finger's high-strength design is also multi-positional, while active flexion movement and spring-assisted extension of prosthetic fingers help to optimize contact and grip.
Externally Powered (Myoelectric) Prosthetics
As mentioned before, externally powered prostheses are electronically controlled, functional, and highly responsive devices. At the partial-hand amputation level, this design is typically composed of multiple full-length prosthetic fingers or a full-length prosthetic thumb as required, and they are typically powered by a lightweight, rechargeable onboard Li-ion battery system. Because of how lightweight and high-tech they are, they're a great option for light to moderate day-to-day performance.
The term "myoelectric" describes the process where electrical impulses are generated by the contraction of the wearer's muscles. These electrical signals are captured by the onboard microprocessor and then used by the prosthesis as a signal to control the movement of a prosthetic component.
This control option allows the wearer a near-natural range of motion with intuitive movements and the ability to confidently grasp and release various shaped objects of all sizes.
Thanks to their quick response times and high-tech capabilities, these prostheses offer a high degree of independent control and functionality.
Össur's Myoelectric Devices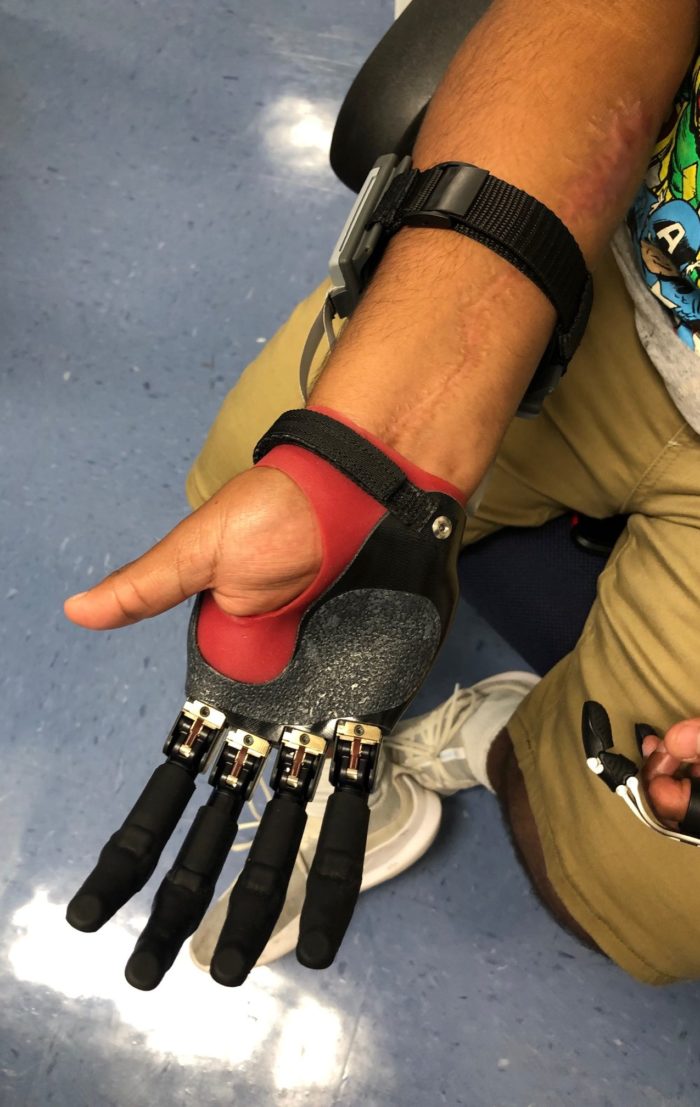 Suitable for individuals missing anywhere from one to all five digits where the level of absence is distal to the wrist and proximal to the metacarpophalangeal joint, the i-Digits myoelectric partial hand prosthesis has become extremely popular in recent years.
The device offers a full-length, fully articulating finger. The prosthetic finger itself is actively controlled and multi-positional, allowing the wearer to easily adjust the flexion/extension positioning and achieve functional grasping capabilities.
Hybrid Prosthetics
Hybrid prosthetics, like this Bebionic hand from Ottobock, combine body-power and myoelectric control to give the user the ability to control the elbow and hand simultaneously. Hybrid prosthetics often combine the high grip force of a myoelectric device with the bio-feedback of body-controlled devices, without extra bulk. This combination can reduce the weight and complexity of the transhumeral prosthetic system while allowing quick operation of the elbow for placement of the terminal device.
View all Prosthetic Devices
Activity-Specific Artificial Fingers & Hands
Activity-specific prosthetics, such as the Mert Lawwill Prosthetic Hand Attachment, are devices made for a specific activity such as fishing or swimming. In addition to prostheses fabricated for a specific activity, several common activity-specific attachments also exist for a variety of day-to-day tasks such as brushing your teeth, combing your hair, and more. Each activity-specific attachment easily attaches to your existing prosthesis for use with a specific activity. MCOP generally recommends attachments from Mert's Hands, TRS, Texas Assistive Devices, or MidWest Pro-Cad, which offer great products for almost any application.
At the partial hand amputation level, these devices are typically created in a fixed oppositional shape. This shape helps assist with a specific grasp pattern that is otherwise difficult or impossible to achieve.
There are also a number of hand and finger prosthetics, as well as some other accessories, specifically made for high-intensity sports. Some of these sports-oriented hand and finger prosthetics and other devices include:
In addition to these activity-related prosthetic devices, there are also several other attachments on the market designed to help amputees with a variety of day-to-day tasks. From brushing your teeth to combing your hair, each of these devices can easily attach to your existing prosthetic to help make your daily routine as easy as possible.
At MCOP, we generally recommend attachments from companies like TRS, Texas Assistive Devices, and MidWest Pro-Cad since each one of these companies have great reputations and equally great products for virtually any application.
Prosthetic Resources
At MCOP, our number one focus is always on improving the quality of life of our customers and help them #MoveForward following any type of amputation or incident resulting in limb loss. Over the past few decades, we've built long-lasting friendships with clients from all over the world.
After becoming part of our extended MCOP family, you can take solace in the fact that you'll receive expert guidance from industry-leading prosthetists, as well as access to the latest and most advanced prosthetic technologies and related devices.
Even so, we know that the prospect of undergoing an amputation in the near future can be a frightening one. Fortunately, there are many online support groups, forums, and other resources for amputees to share their experiences, learn, and simply find a caring community. Some of our personal favorite online resources and websites include:
Our team is also happy to answer any questions or concerns that you might have during any step of the process. In fact, we get questions all the time – and we openly encourage them. Below, you'll find a list of some of our most asked-about topics. Of course, if you have any questions or concerns about your unique situation, don't hesitate to reach out to us.
About The Authors
Jamie Vandersea
is an Upper Extremity (Arm) Prosthetics Specialist with over 20 years of experience. He joins Medical Center Orthotics & Prosthetics from Walter Reed Army Medical Center where he worked as an upper extremity specialist serving our nation's heroes. He continues to practice his passion for helping others by providing his patients with the latest advanced upper limb prosthetic care and technologies. Professionally, Jamie holds the designation of CPO and is a member of the American Academy of Orthotics and Prosthetics.
Brian Waryck has 20+ years of experience in the industry, with a specialized focus on upper extremity prosthetics. He is an ABC-certified prosthetist, Fellow of the American Academy of Orthotists and Prosthetists, and member of the Upper-Limb Prosthetics Society. Clinically, he has accumulated extensive experience, including providing upper limb prosthetic care to injured military personnel during the height of conflicts in Iraq and Afghanistan. Brian has presented and co-published articles promoting the advancement of prosthetic technologies. His experience with prosthetic design following Targeted Muscle Re-innervation (TMR) make him a key player not only to MCOP but also in upper limb prosthetics nationwide.